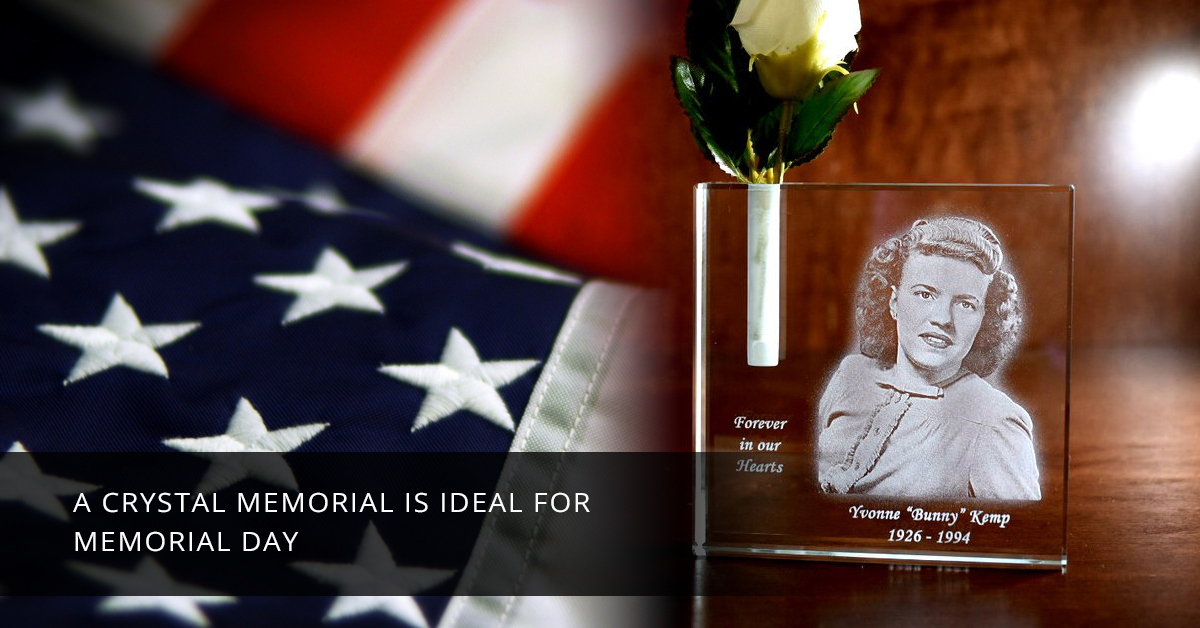 This weekend, our country will be celebrating Memorial Day. It is a day Americans view as the start of another fabulous summer and is marked with barbecues, picnics and hanging out with family and friends. All of these are great ways to spend a three-day weekend, however, the fun should not come at the expense of the real meaning of Memorial Day.
Memorial Day is important because it gives us the opportunity to honor and remember the men and women who have served and currently serve in the military. So in addition to your barbecue and boating trip, here are a few ideas of things you can do to celebrate Memorial Day.

Crystal Memorial
A crystal memorial is a beautifully designed and elegantly engraved fine crystal that makes a wonderful tribute to the veteran in your life you have lost.
You can have a poem or scripture of your choosing to commemorate their life and honor them in death.
Attend a Parade
Many cities and towns throughout the nation will hold a parade on Memorial Day. Many of these parades may even end with a memorial service.
Take time out from grilling burgers and hot dogs to attend a parade, bring the family with you as it will be a great learning experience for the kids. They will have fun as well. Don't forget to stand and applaud when the veterans walk past.
Thank a Veteran
While Memorial Day is a time to remember fallen soldiers, it is also a great time to thank the soldiers past and present who are among us right now. Thank them for all they have done to protect our freedoms and our country.
If you don't know a veteran, write a letter to one. Check out Operationgraditude.com for more information.
Visit a Cemetery
It has been a long tradition to visit the cemetery and decorate the graves of fallen soldiers with tiny American flags.
If you cannot visit a cemetery, decorate your house with an American flag. Just make sure to keep it as half mast until noon as this is traditional.
Purchase a Poppy
In the weeks before the holiday, members of the Veterans of Foreign Wars take donations for poppies. The poppy is a long-standing symbol of Memorial Day.
By purchasing a poppy, your donation assists in helping state and national services that serve veterans.
Enjoy the Day with Your Family
You can also observe Memorial Day by spending time with your family and enjoying your freedom. Memorial Day should be celebrated with a barbecue or a picnic and lots of fun and games.
You can also take the opportunity to have a talk with your children and explain to them the meaning and significance of the holiday. Makes sure they understand that Memorial Day is much more than just three day weekend that marks the beginning of summer.
And then, when they grow up they can carry on the tradition of a Memorial Day family gathering in which their kids will be taught how to observe the holiday.