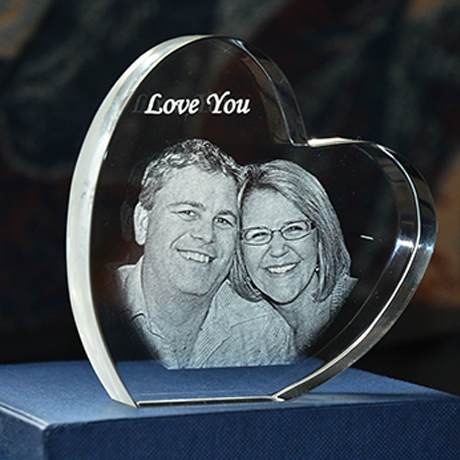 The third anniversary is a sweet one. After three years of marriage, you've probably found a nice routine together. You've learned more about each other than you thought was possible and you still love each other more every day. Three years feels like a long time, but it's nothing compared to how long you hope you'll be together. The third anniversary is traditionally celebrated with gifts of crystal, which is why our 3D photo crystals are a wonderful gift to celebrate your first three years of marriage!
Why Crystal is Used for the 3rd Wedding Anniversary
The modern gift for the third anniversary is listed as "glass or crystal," perhaps to compliment the traditional gift of china for the second anniversary. However, this traditional gift can also be seen as a metaphor for your married life together. First, crystal is both beautiful and delicate, which might be how your relationship feels now. You are still in the fledgling stage of your life together, so it's still a little delicate, but there is no doubt that it's wonderfully beautiful, too. Also, crystal is usually multi-faceted as a way to reflect light and sparkle; that could be a metaphor for your marriage, too, as you use your relationship to spread happiness and light to the world around you!
Why Our 3D Photo Crystals are Perfect for Your Anniversary
Our photo crystals capture your relationship in an elegant, permanent way. They offer something that's more unusual and special than another framed photo, and because they can last forever it's something that you can pass down to your children so they can remember that their parents were once young, too. Our 3D photo crystals capture tiny details from a photograph and render them in beautiful 3D detail, making them both a wonder and a work of art. You can add a special message or date to your crystal, as well, making it even more special.
Order Your 3D Photo Crystal Today
If you are searching for a special 3rd anniversary present for your loved one, our 3D photo crystal is perfect. We make it easy to order this amazing present, too; simply choose the crystal you like the best and upload the photo that you'd like captures forever in high-quality crystal. Be sure to add a special message, too. Then our team will take care of the rest. We'll ship your finished crystal to you as soon as it's finished.