Crystal Anniversary Gifts
Anniversary gifts are about celebrating the love that you and your spouse share with each other. Make the most out of these special occasions, whether you're celebrating your third or your fifteenth. Your gift should show how special your person is to you. Show them you cherish all the time that you've spent with them.
Each anniversary has a name and symbolic association tied to it. This stems from an emphasis on family and home life that began in the 1800's. The practice of giving symbolic gifts to your spouse began with silver and gold anniversaries. These anniversaries were tied to the 25th and 50th years, celebrated with a silver and golden wreaths.
By the early 1920's, the symbolic gifts had expanded to include cotton (1st), wood (2nd), leather (3rd), tin (10th), crystal (15th), china (20th), and many others. There are many different anniversaries that we couldn't note here, but the symbolic gift materials continuously grow in value and/or strength as the years continue. This gave married couples ideas on what they could do for their wedding anniversary gift. However, as time has gone on, so has the culture around these anniversaries.
Since the foundation of these widely celebrated anniversaries, the gifts aligned with them have altered. For example, modern tradition has added many more years into the mix. The names of the anniversaries have also changed so most of them are nothing but a title. For example, tin anniversaries are now celebrated with a diamond, and wood anniversaries are celebrated with silverware.
No matter what, you should make the gifts you give your spouse something that both of you will cherish. Make sure you pick out a present that will display what makes your marriage special.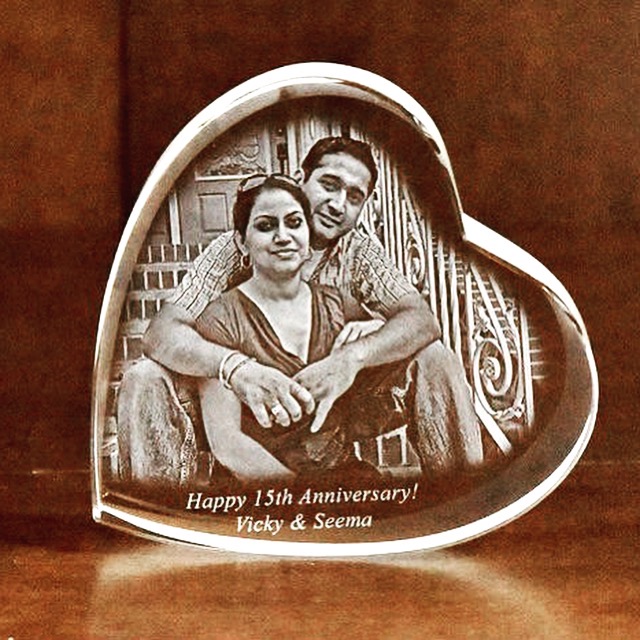 3rd Anniversary Gifts
The third anniversary is often referred to as leather. The gift for this, traditionally, matched the name. Fine leather goods are great, but the culture around weddings has changed in modern times. The name hasn't changed, but the material associated with it has. Leather's modern alternative is now crystal.
A modern gift alternative is crystal and glassware, but that is usually, and predictably, read as a crystal wine decanter or cocktail glasses. For something a little different, a crystal print is the perfect thing to surprise your partner for your third wedding anniversary. Getting a crystal print instead of crystal wine glasses will truly separate you and your spouse's love from the rest. Immortalize your love by capturing one of your favorite photo memories inside a gorgeous crystal.
15th Anniversary Gifts
Fifteen years of marriage is no small feat. It's widely known as the crystal wedding anniversary, and traditionally the gift you would give your spouse would be something matching the name. Your love has lasted the test of time, and it's important to celebrate this momentous occasion with a gift idea that you know your partner will love.
Recent crystal anniversary gift ideas often include a watch. This present, while nice for some, can be too specific. What if your spouse already has a nice watch?
For this anniversary, consider returning to the traditional name for it: Crystal. Look back through all the photos and memories that you and your special someone have made together. Pick out moments that were incredible for both of you; your wedding day, that wedding dress, maybe a special vacation. Then, get them engraved into a crystal to show how your love has always stood solid and strong, and always will. Choose from a crystal heart, paperweight keepsake or other shape, you are sure to find the best gift ideas to celebrate those years together.
Celebrate Your Crystal Anniversary With The Perfect Gift
Crystal Prints wants to help you celebrate your anniversary. These days are incredibly important for your relationship and getting a gift right can sometimes be hard. An engraved crystal print is the perfect gift for immortalizing one of your favorite moments with your spouse. Every moment you spend with your partner is a great one. Display your favorite with the help of an engraved crystal. All you have to do is upload your favorite picture and we'll take care of the rest. We offer free shipping as well and promise quick turnaround times. Start shopping for your perfect crystal print today!