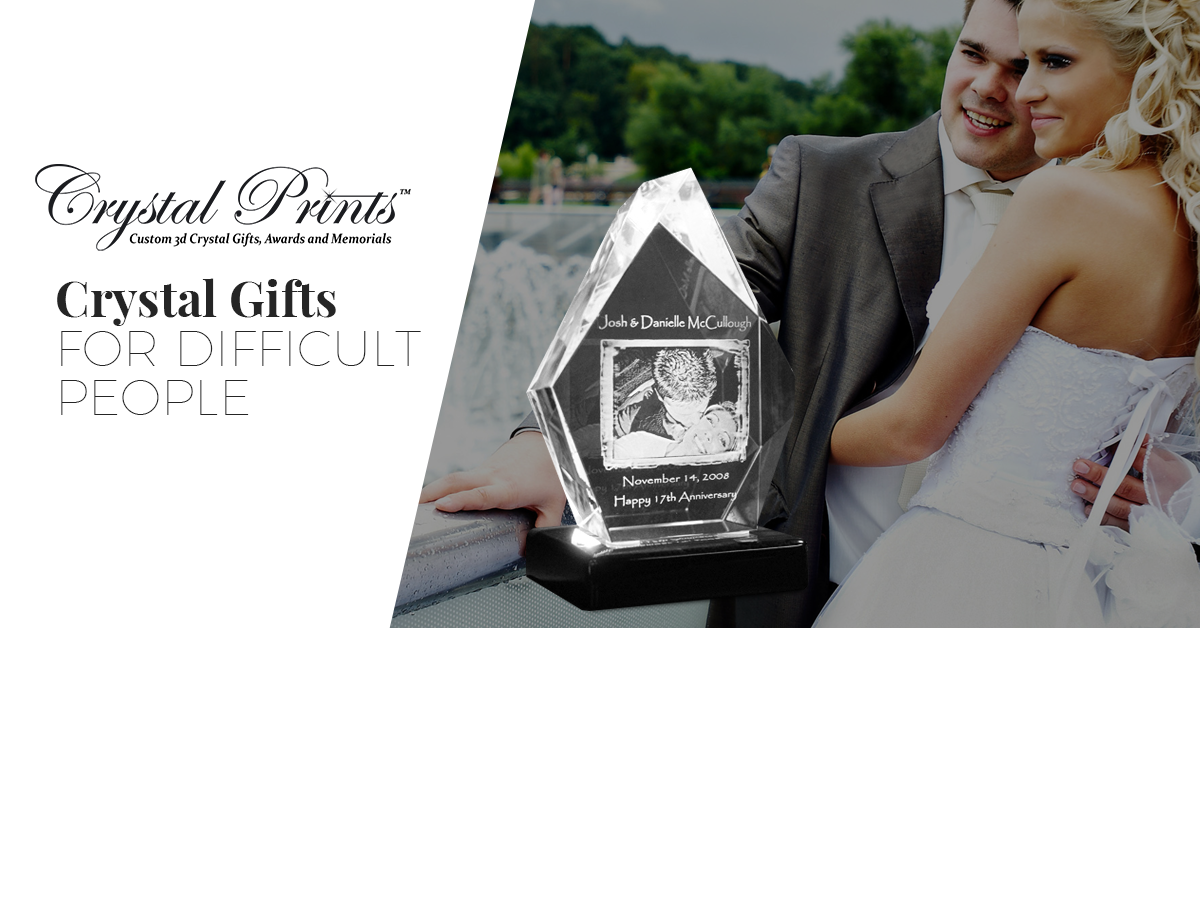 Holiday shopping is stressful enough without having to find gifts for those in your life who are difficult to shop for. You know the people we are talking about, you probably have to shop for one or two of them each year.
These are the people who either already have everything they need or are able to buy anything they want. They are also the type of people who are very picky about what they bring into their lives.
It is these people that give you headaches when you shop for them. We feel your pain. Crystal Prints offer advice for the people who are difficult to shop for.

The Person Who Has Everything
For the friend who has everything, you have to ask yourself a few questions. You need to find out what this person does on a regular basis. Perhaps they get coffee at the same coffee shop every morning or maybe they stop and buy a magazine or book at a particular book store.
If so, perhaps a spill-proof coffee cup would make a great gift or a book light for nighttime reading will make a nice gift.
If not, then get them a crystal gift, like a crystal paperweight. Everybody can use a crystal paperweight.
Friends With Expensive Tastes
We all have a friend who buys only the best of everything. They aren't satisfied with suits off the rack, they have to be custom tailored. They shun the notion of owning a Toyota and drive a BMW instead. And they refuse to drink coffee unless it is from Starbucks.
For friends like these, buy them a crystal bottle stopper for their very expensive bottle of wine.
The Friend Who Doesn't Like Anything
We all have at least one friend in our lives who hates everything. Any gifts they receive are met with a frown and a grunt. Actually, the person who never likes anything is quite easy to shop for, if you know what to get them.
A crystal iceberg with a picture of their family will suit them nicely and you will get no complaints.
The Friend Who is Struggling
If you have a friend who is going through a rough path in their like, you might not know what type of gift to give them this holiday season. You want to give the perfect gift that will cheer them up.
A custom crystal panel depicting a picture of their family or pet is the perfect gift that is sure to put a smile on their face.
Your Parents
Every year you struggle with what gift to give your parents. It gets tougher every year.
Make up for years of bad gifts by giving them a 3D crystal depicting a picture of you. That's right, give them the gift that will keep on giving for years to come. Anytime they miss you, just glancing at the 3D crystal will make them feel better.
If you are having a hard time finding a gift for a friend or loved one, see what Crystal Prints has to offer.