One of the most special things about life is sharing time with your furry friends. Cats, dogs, birds, lizards, and many other animals share your home and bring you joy every day. A pet's love is unconditional, and you should return the love that they bring into your life.
April 11th is National Pet Day. This day celebrates every animal companion that shares your life with you. Whether you have a Siamese cat or a Newfoundland, make sure your pet knows how much you appreciate their unconditional love. Take your dog on a long walk through their favorite park. Give your cat a feast of tuna and catnip. Let your hamster roll around in its ball to its' heart content. Whatever you do, just make sure your pet knows how much you love them.
National Pet Day was founded by Colleen Page in 2006 so that we can celebrate the love and joy pets bring into our lives. Page is a huge animal welfare advocate as well as a pet and family lifestyle expert. Her love of animals, as well as her experience with seeing them in bad families, inspired her to spread the message that every pet deserves love and proper care. She encourages people to adopt from shelters rather than buying from a breeder. "Don't Shop! Adopt!" has become the motto for the holiday.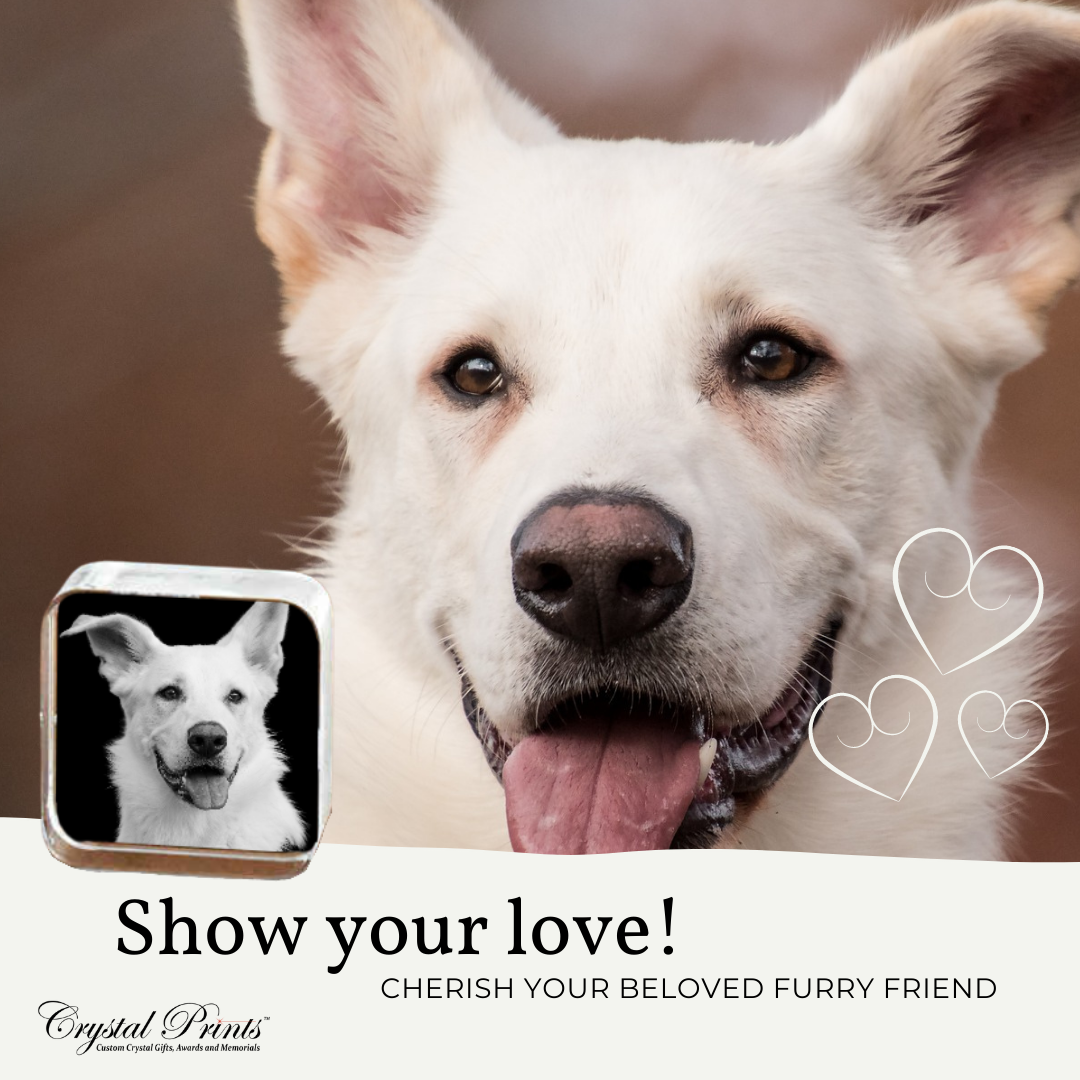 If you have a pet, take time today to make sure they know you love them. While you're out celebrating with them, take photos to remember the excitement of the day. If you have an elderly dog or cat who might not want to do much, just relax with them in your house. They may be old, but the love they give you hasn't changed. Take cute pictures with them so you can look back fondly on your memories with them.
Crystal Prints makes a monthly donation to our local no kill animal shelter, Baywater Animal Shelter. We want to do our part in making sure that these animals get the love and care they deserve. The featured picture is a photo crystal print that we created for the shelter. We love dogs, cats, and all other types of pets, and each and every one of them deserves to live a full, happy life with a family who loves them. We've always treated our dogs as if they are our children, and through this business we've been able to see how others love their pets in the same way. Every pet deserves the love that a good home will give them. We are happy to do our part to make sure that happens.
The best way to truly immortalize your pet and these happy memories is to get a crystal engraved with their image. Crystal Prints wants to help you celebrate your furry friends. Engrave a picture of your pet into a heart-shaped crystal and place it in your entry room or engrave their picture onto a crystal necklace so you can carry them with you wherever you go. Upload your favorite picture to create a custom photo crystal of your pet today.
Your pet deserves to be remembered forever. Let us help you create the perfect way to remember your pet and the memories you make on National Pet Day!