We get feedback from many of our customers that the gift they gave their loved one from Crystal Gifts were a huge hit with the recipient. Many of our items because family heirlooms; gifts passed down from generation to generation as treasured keepsakes that capture beloved memories.
Why Our Crystal Gifts are So Beloved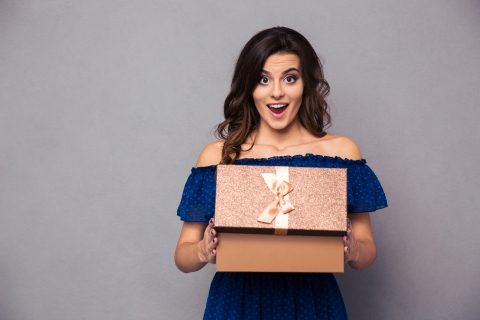 We use high-quality materials.
We know that people want their crystal gifts to last forever, and with the proper care, they will. That's because we use high-quality materials that withstand the test of time and a laser that precisely etches every detail into our crystal gifts. Our goal is to create a piece that people are proud to display in their homes, and that's why we never cut corners on materials just a save a few pennies. You'll be able to see and feel the quality in each piece that we create!
We care about the finished results.
Our team truly cares about creating a wonderful product for our customers. That's why we take the time to edit, crop and rotate your photos so they have the best possible orientation on the crystal piece that you choose. We don't operate an assembly line of crystal pieces; we take time to make sure that each piece is perfect so our customers are thrilled with the final results.
We know presentation matters.
If presentation didn't matter, why would we wrap presents? Our team wanted to make sure that our customers were able to present these crystal gifts in the best manner possible. That's why we send our crystal gifts in a velvet-lined gift box. Not only does this highlight the beauty of the crystal, it protects your gift during the shipping process so it arranges looking as great as it did when it left our facility!
We capture special moments and special people.
When people order our crystal gifts, they are trusting us to capture the likeness of some of their favorite people or help them remember special moments in their lives. We create touching memorials to a lost loved one or tributes to a lasting love. We take what we do seriously, because we know that people are trusted us to help them preserve special memories and moments.
We offer something different...and special.
Our gifts aren't another boring, last-minute gift. This is something you can display in your home or office for years to come. It's a special piece with special meaning, and that's why people love getting a present from our online store!
There Is Something for Everyone at Crystal Prints
No matter who you are buying for or what the occasion might be, we have the crystal gifts that are perfect for it. You can check our our full selection of gifts on our website, where you'll find keychains, paperweights, bottle stoppers, 3D photo crystals, awards and so much more. Choose the crystal gifts that you want to give and place an order with our online store today. We'll make sure you get a gift that you and your loved ones will adore!